About Us
"Aquire Restoration, Inc. can respond to most locations within one hour or less"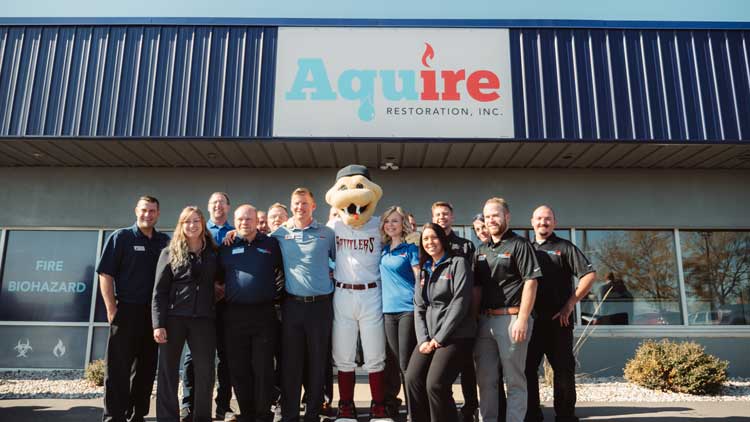 When Jeff Edmunds created Aquire Restoration, Inc. in 2007 he brought along with it more than six years of expertise in the insurance restoration & new construction industries. Like many visionaries, he saw an opportunity to provide top notch customer service as well as the ability to obtain the most cost effective finished work product. The concept caught on immediately and has grown not only in size, but acceptance from the very start. Our corporate headquarters are centered in Oshkosh with an additional office located in Kaukauna. We can respond to any emergency in one hour or less from all 3 locations. By having our office locations strategically placed we are able to cover more than 50% of Wisconsin within our ordinary service territory however, we have been known to go anywhere & do anything it takes for both our internal and external customers. The perspective of going above and beyond is the sort of service that sets us apart from other providers in Wisconsin.
Our Certifications & Skills
We take tremendous honor in our certifications! Each year we expand our knowledge with our work experience alongside attending continuing education classes. Our certifications include:
A+ Rating with the BBB
IICRC Certified Firm
IICRC Master Water Restorer
IICRC Journeyman Water Restorer
IICRC Master Fire/Smoke Restorer
HAAG Certified Roofing Inspector
Lead-Safe Company
IICRC Certified Technicians:

Applied Microbial Restoration Technician(AMRT)
Applied Structural Drying (ASD)
Carpet Cleaning Technician (CCT)
Commerical Drying Specialist(CSD)
Fire & Smoke Technician (FST)
Health & Safety Technician (HST)
Odor Control Technician (OCT)
Upholstery and Fabric Cleaning (UFT)
Repair & Re-installation Technician (RRT)
Water Restoration Technician (WRT)

Trauma and Crime Scene (TCST)
State of Wisconsin Contractor License 1058588
Fully Insured & Bonded
Why Choose Us
Why not choose us? We hold a strong reputation within our industry for being ethical, honest, and providing fair billing practices. We carry a large network of referrals from our previous customers and have a combined 35+ years of construction & insurance restoration experience. Our staff includes an IICRC Master Water Restorer, an IICRC Master Fire/Smoke Restorer, an IICRC Journeyman Water Restorer, a HAAG Certified Roofing Inspector, a Certified Lead Inspector and five Lead Safe Renovators so take trust in knowing we can appropriately inspect and/or restore your property. All of our employees perform their duties dressed in company branded attire and all drive professionally represented company vehicles. We take great pride in what we do, the way we do it and what we charge to do it. We won't do anything in your home that we wouldn't do in our own. Simply put, our motto says it all, "We are large enough to serve you but small enough to care!"