Fire Damage Restoration
Fire & Smoke often result in hidden damage that can be the hardest to find & fix.
Fire Damage, and the accompanying smoke & water damage are unique in that solving one problem - putting out the fire - often contributes to the damage. Safely cleaning up after a fire involves knowing where to look for damage that isn't immediately apparent: inside walls and ceilings, under floors, etc. Depending on how extensive the fire, depends on whether materials get replaced or restored and that is where the expertise and certifications put Aquire Restoration, Inc. above the rest.
Finding and eliminating smoke odor is just as important as finding and replacing burned studs/joists within a wall/ceiling. Whether there is minimal or heavy smoke damage, many times a thorough cleaning will fix the smoke damage problem. What good is making a place look like new when it still smells like the fire trucks just left? Aquire Restoration, Inc. has NEVER had a previous customer contact us for a smoke odor. Aquire Restoration, Inc. is IICRC Certified to restore properties damaged by fire/smoke.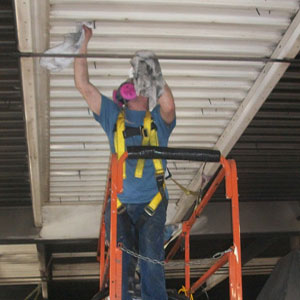 "You don't have to do this - We will!"
When disaster strikes, you have enough to worry about. We have the people, the equipment and the experience to get your life back to normal.