Storm Damage
When disaster strikes, it's good to know that Aquire Restoration, Inc is there to help.
Living where we do, our homes and businesses are exposed to every kind of potentially threatening weather: tornados, floods, heavy frost, ice damming, heavy rain or high wind - any of them can show up almost any day.
When it does, Aquire Restoration, Inc. responds quickly so you can start getting things back to normal right away. Our first goal is to prevent the existing damage from becoming a full-blown disaster. We inspect and evaluate potential structural damage as well as cosmetic damage. Roof repair or replacement, electrical, plumbing, siding, windows, tree removal and clean-up; these are just some of the services we provide as a comprehensive restoration company.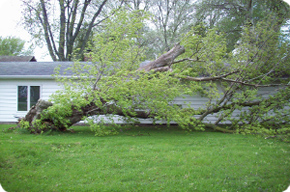 "You don't have to do this - We will!"
When disaster strikes, you have enough to worry about. We have the people, the equipment and the experience to get your life back to normal.